Let's Go Zero!
At Henbury View, we are committed to ensuring that we help protect the planet for future generations. Therefore, we have joined the 'Let's Go Zero' campaign (letsgozero.org) that unites schools in talking climate change by working to become carbon-neutral by 2030. We know this is a huge challenge, but we want our children to understand how they can help change the world for the better and help save the planet.
Let's go for ambition. Let's go for working together. Let's go zero.
Let's Go Zero
Let's Go Zero is the national campaign uniting teachers, pupils, parents and their schools as they all work together to be zero carbon by 2030. We're also working with national government to ensure the right support is in place to help all schools reach this goal through seven policy actions:
1. In 2022 the government commits to all UK schools being zero carbon by 2030 and announces long term and consistent policies and funding to enable this.
2.Government ensures there is investment in training teachers in education for sustainable development across the curriculum, and in equipping colleges and schools to give all learners a connection to nature.
3. The government commits to investing in adapting and retrofitting the school estate.
4. The Department for Education commits to improving their building specifications, so that all new school buildings from 2022 onwards will be net zero carbon.
5. By 2025, every school is mandated to have a funded Climate Action Plan that provides step by step guidance cutting through the current complicated procedures that will result in zero carbon status.
6. Every school should have a trained staff member who acts as a Sustainability Lead.
7. Sustainability to be embedded as a statutory feature of careers guidance in UK schools by 2025.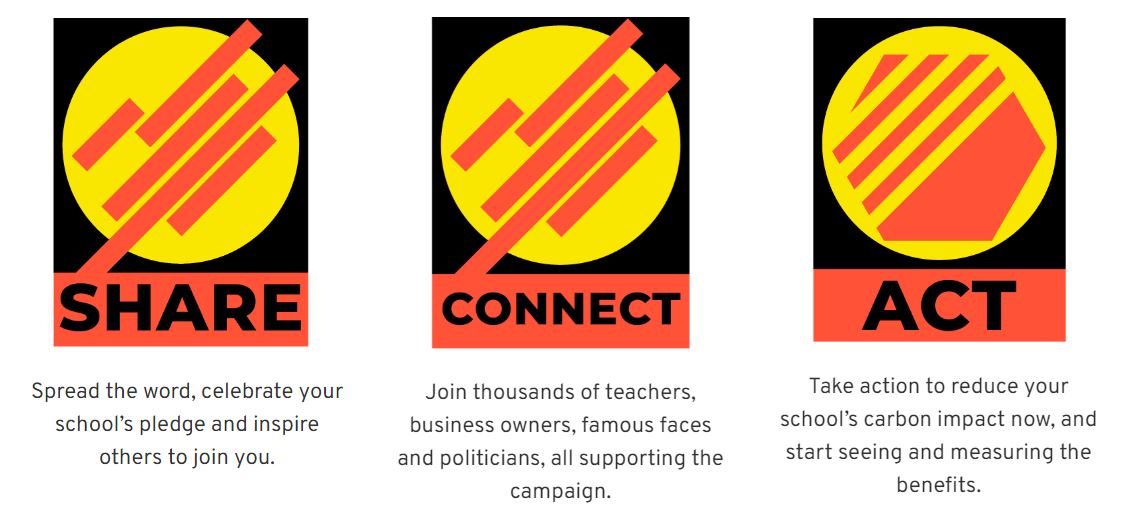 From Glasgow to Belfast, Liverpool to Cardiff, school leaders are standing alongside students and taking action to tackle the climate crisis. Every school that signs up is pledging to work towards a more sustainable future while calling for much-needed government support to help all schools reach their zero carbon goals.
By raising our voices together, we are showing the overwhelming support for zero carbon schools up and down the UK. Together we're harnessing the power of schools and young people to drive change and spark climate action in communities across the country, reducing emissions, increasing biodiversity and safeguarding our planet for future generations.
Our School Plan
Please see below for our school action plan and progress towards this: